Dwayne K. Buttler serves as the first Evelyn J. Schneider Endowed Chair for Scholarly Communication at the University of Louisville and is a tenured Professor in University Libraries. Most of his teaching, work, and writing concentrates on copyright, licensing, technology, and related legal and policy concerns arising in teaching, learning, and scholarly communication. He earned a Doctor of Jurisprudence degree from the Indiana University School of Law-Indianapolis and holds a BA in Telecommunications from Indiana University Purdue University Indianapolis. Dwayne also teaches mass communication law at the University of Louisville and has led many, many workshops, invited presentations, and discussions about copyright and scholarly communication for audiences of administrators, faculty, librarians, and scholars within the library and higher education communities nationally and internationally. He has also frequently participated in various studies and roundtables held by the U.S. Copyright Office since the late 1990s addressing issues of crucial importance to libraries and the future of copyright law.
Kenneth D. Crews
is an attorney, author, professor, and international copyright consultant. For over 25 years, his research, policymaking, and teaching have centered on copyright issues related to education and research. Professor Crews established and directed the nation's first university-based copyright office at Indiana University.  He was the first recipient of the Patterson Copyright Award from the American Library Association, and he received the Mark T. Banner Award from the American Bar Association in 2014. He is the author of numerous publications including the book, 
Copyright Law for Librarians and Educators
(3rd ed, 2012).
Sandra Aya Enimil
, a licensed attorney, is the Program Director of Copyright Services at the Ohio State University Libraries.  At Ohio State, Sandra provides information and resources on using copyrighted materials and assists creators in protecting their own copyright. Sandra works with individuals and departments within the Libraries and across campus. She works closely with colleagues in various academic units, Legal Affairs, and the Libraries' Special Collections and Digitization & Reformatting departments to name a few.  She has also given numerous presentations on various aspects of copyright for faculty and staff at Ohio State and several other institutions.
Prior to joining Ohio State, Sandra was the Archives/Copyright Manager of the Chicago Defender Newspaper. Sandra earned her Law and Masters of Library and Information Science degrees from the University of Illinois at Urbana-Champaign. Sandra has Bachelor of Arts degrees in Political Science and Psychology from the University of Michigan and a Master's degree in International Relations from the University of Ghana.
A native of Chicago, Illinois, Sandra participates in several professional and social organizations. She also owns a fashion design business with her mother, Theresa Obeng Sam, called Pretty Afrika Designs.
Dr. Mark Konecny is the Scholarly Communications Publishing Coordinator at the University of Cincinnati. He is active in promotion of digital scholarship and open access publishing. He works with the application and implementation of technology in academic projects the classroom and the interface between the library and academic departments. He is an editor of the journal Experiment, a scholarly art history journal. He has experience negotiating copyright and image right issues. He has worked on several multiyear projects involving faculty and museum professionals from many disciplines from many international universities. He is also the Associate Director the Institute of Modern Russian Culture, a unique collection of twentieth century books, art, and cultural artifacts.

Cindy Kristof, Associate Professor, currently serves as Head of Copyright and Document Services at Kent State University Libraries. She is responsible for Copyright Services, Digital Projects, Institutional Repository, Interlibrary Loan, and Reserve Services operations. She serves as Kent State's OhioLINK ETD administrator. She assists colleagues, faculty, and students with copyright and ETD questions and obtains permissions and licensing. She contributed a chapter titled, "U.S. Copyright and Interlibrary Loan Practice" to the third edition of the Interlibrary Loan Practices Handbook published by the American Library Association. She regularly presents on copyright and fair use to groups on and off campus.

John Millard: My research interests and activities focus on developing digital library systems to serve distinct user communities. I'm a former NASA and USGS funded investigator working on the OhioView project, a congressionally sponsored project to further the use of U.S. civilian satellite data by the public. At Miami University, I serve as the Assistant Dean of Libraries with leadership oversight of the Walter Havighurst Special Collections, University Archives, Technical Services and the Center for Digital Scholarship.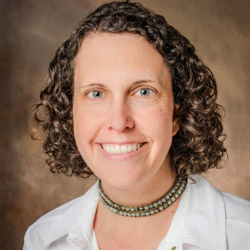 Carla Myers serves as Assistant Professor and Coordinator of Scholarly Communications for the Miami University Libraries. Her professional presentations and publications focus on fair use, copyright in the classroom, and library copyright issues.

Maria Scheid serves as Rights Management Specialist with Copyright Services at The Ohio State University Libraries. She provides information on copyright to faculty, staff, and students of the university, on issues ranging from using materials to author rights. She received her J.D. from The Ohio State University Moritz College of Law.

John Woodard is a 2010 graduate of the University of Dayton School of Law, and has been the Associate General Counsel at Miami University since June 2016.  John wears various hats in Miami's Office of General Counsel, including handling copyright matters for the university.  Prior to joining Miami, John was in the business department at the Cincinnati office of Frost Brown Todd, and focused his practice on mergers and acquisitions and general business and corporate law.