We wish to extend our sincere thanks to our conference sponsors, whose support has helped make this conference possible!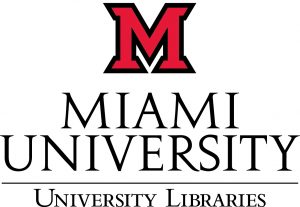 Miami University Libraries
The University Libraries are a mainstay of Miami's student experience, featuring four campus locations and access from anywhere to hundreds of online databases. From cutting-edge technologies like 3D printing to rare historical treasures to simply offering a quiet place to study, the Libraries provide the spaces, guidance, and resources that drive student success.

The American Library Association
The American Library Association (ALA) is the oldest and largest library association in the world. Founded on October 6, 1876 during the Centennial Exposition in Philadelphia, the mission of ALA is "to provide leadership for the development, promotion and improvement of library and information services and the profession of librarianship in order to enhance learning and ensure access to information for all."

The Music Library Association
https://www.musiclibraryassoc.org/
The Music Library Association is the professional association for music libraries and librarianship in the United States. Founded in 1931, it has an international membership of librarians, musicians, scholars, educators, and members of the book and music trades. Complementing the Association's national and international activities are ten regional chapters.

OhioLINK
One hundred and twenty academic libraries are full members of OhioLINK. These libraries are distributed among 92 different Ohio colleges and universities. Together, OhioLINK, the Ohio Library and Information Network, and its member libraries provide access to over 46 million books and other library materials more than 100 electronic research databases; over 24 million electronic journal articles; over 100,000 e-books; nearly 85,000 images, videos and sounds; and over 58,000 theses and dissertations from Ohio students at 31 Ohio institutions.

OhioNET
OhioNET is a membership-driven organization serving libraries and information centers of all types and sizes throughout Ohio, West Virginia and western Pennsylvania. By providing innovative technology solutions, products, training and consulting, OhioNET supports members' efforts to meet the needs of the diverse communities they serve.